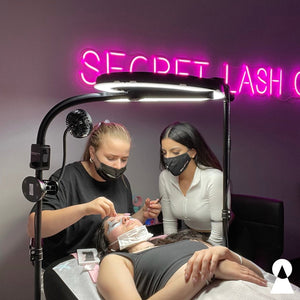 LASH LIFT AND TINT (1 DAY COURSE) MILTON, ONTARIO
Full 1 Day Program designed to help you gain the fundamentals of lash lifting application and tinting service. This one day course provides the opportunity to work on two live models.
Please Note:
It is not required to have any previous experience to take this course.
All trainings will be held at 8250 Lawson Road, Milton, Ontario, L9T5C6, First Floor. Class runs from 10am-4pm.
Kit Contents:
Lift Lotion (10-Packets)
Set x Tint (10-Packets)
Lash Conditioner
Lift Adhesive
Lash Shampoo Bottle
Black Lash Tint
Lash Pick
Small Shields (10)
Medium Shields (10)
Large Shields (10)
Product Rings
Gel Eyepads
Silicone Blue Tape
Mascara Wands
Lint-Free Applicators
Microbrushes
Highlights of Course Content:  
Comprehensive Theory
Introduction to Lash Lift + Tint
Product Knowledge
Safety & Sanitization
Consultation Procedures
Contraindications
Choosing Different Lifts
Lash Lift Application
Tinting Application
Live Model Application
Aftercare
Branding & Social Media
Please Note: The total cost for this course is $700. A Deposit of $200 is required to secure your seat. All deposits are non-refundable. Tax not included. Your remaining balance will be due in person on the first day of the course.

Requests to change enrolled class date with less than 2 weeks notice of original date will be subject to $150 transfer fee.

Please allow 1-3 business days to receive confirmation from SECRETLASHCLUB™ that you are enrolled.